The View (and Vibes) From the VeeCon NFT Conference
For all the doom and gloom around the NFT and crypto space lately, you wouldn't know it from inside VeeCon last weekend. Entrepreneur, author, and investor Gary Vaynerchuk's inaugural NFT conference felt like a cross between "summer camp"—as he described it to Decrypt—and a concert festival.
Inside the enormous U.S. Bank Stadium in Minneapolis, home of the NFL's Minnesota Vikings, VeeCon surrounded the main stage with food trucks, Adirondack chairs, giant Jenga—even a Ferris wheel. Within that chill setting, VeeCon provided three days' worth of panels and interviews featuring massive celebrities and crypto creators, along with nighttime concerts.
In other words, it wasn't a stuffy crypto conference. There was little talk of market conditions or regulations, and few suits in sight. VeeCon instead focused on culture and community, and how NFTs and Web3 technology can shake up stagnant industries, directly connect artists with fans, and, in Pharrell Williams' view, help change the world for the better.
That vibe corresponds with the focus of Vaynerchuk's NFT collection, VeeFriends, which the conference was built around. Vaynerchuk told Decrypt that he had considered throwing a "super-conference" for about a decade beforehand, but the timing was never right. With NFTs, he saw an opportunity to provide his fervent fanbase with access and opportunities.
VeeCon was initially planned to take place on a cruise ship, he said, which might help explain the playful getaway vibe that remained intact. When that plan wasn't feasible, in part because of COVID, Vaynerchuk decided instead on the stadium. "It's probably overkill," he told Decrypt the day before VeeCon opened its doors.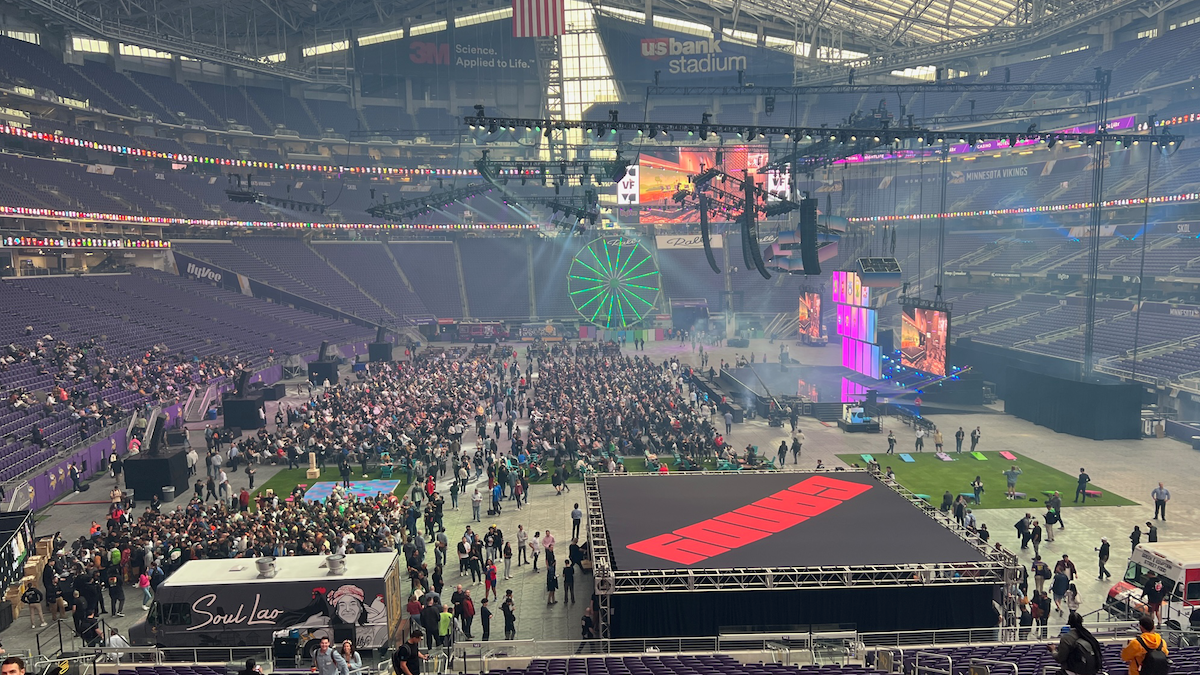 VeeCon 2022 at U.S. Bank Stadium. Image: Decrypt


To some extent, it was overkill. The floor of the stadium was ground zero for the thousands of attendees, containing the main stage, food trucks, and attractions. However, other stages scattered elsewhere in the stadium were hard to find, plus climbing the stadium stairs back to the concourse was a killer. And the total attendance was a fraction of the venue's 73,000-person capacity.




While the stadium layout had functional quirks, the enormous setting itself gave the conference added impact and played into the notion that it wasn't a business event. The welcome party held directly outside, which featured music from DJ Skee and let attendees paint with crypto artist FEWOCiOUS, established the tone that carried through the weekend.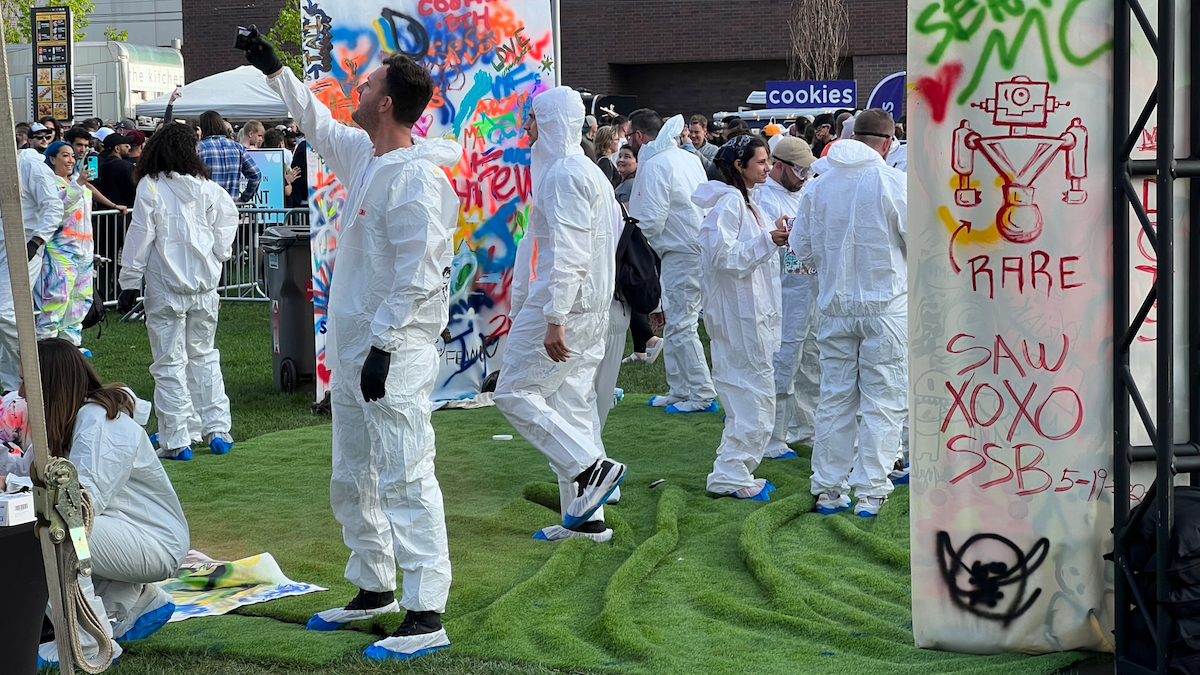 VeeCon's welcome party let people paint with NFT artist FEWOCiOUS. Image: Decrypt


VeeCon also didn't feel like it was tuned specifically to maximize profit. It was built for holders of VeeFriends NFTs—who already bought into the project—all of whom were granted NFT tickets to the event. Attendees were greeted with a free hot breakfast and ample beverages each morning, a refreshing surprise for any event set inside of a football stadium.




The programming each day provided a mix of Vaynerchuk's own brand of practical motivation and interviews with celebs like Williams, Spike Lee, Mila Kunis, Eva Longoria, Logan Paul, and Snoop Dogg, plus discussions between crypto-native creators and educational fare about topics like smart contracts and community building.




By night, well-known musicians like Wyclef Jean and Miguel entertained attendees that stuck around the stadium, along with Salem Ilese—the artist behind recent meme sensation, "Crypto Boy."




Holding a long-planned NFT conference during a market downturn might seem like unfortunate timing, but the state of the industry didn't appear to cast a pall over the event. Creators seemed happy to meet contemporaries and connect with fans, and many of the attendees appeared thrilled to be around Vaynerchuk.





He spent hours upon hours taking selfies with and hugging fans, both at the welcome party and over the course of the weekend. Between VeeCon, VeeFriends, and Vaynerchuk himself, it was undoubtedly the Gary Vee show—but not obnoxiously so. He gave a keynote and conducted some interviews, but the larger spotlight was on NFT culture and its many creators.




"The energy is good. I think it's informative for a lot of people," notable NFT photographer Isaac "Drift" Wright told Decrypt. "It's good to see such a collective gathering of so many amazing people. It's always nice to be able to come together and talk about what's going on, especially during the market we have right now. It's good for people to be unified."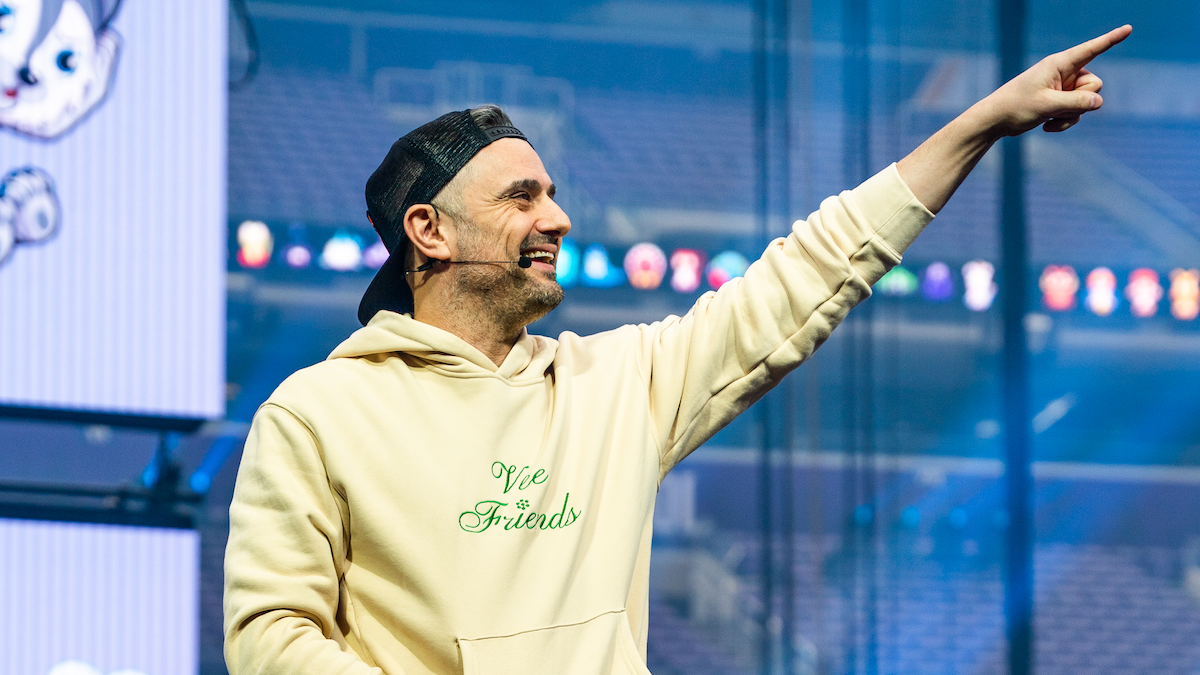 Gary Vaynerchuk onstage at VeeCon 2022. Image: VeeCon


Adélina Arzu Mattera, director of communications for NFT project World of Women, had been concerned about VeeCon's vibe given the state of the market, but said during the event that "everyone is ecstatic."




"We all feel like we're part of the same community," she added.




Ultimately, Gary Vee's first "super-conference" struck the right balance between community, education, and entertainment, and felt like a real benefit for VeeFriends holders. It achieved the stated goal of bringing together Gary's own community of fans and collectors.




But it didn't feel limited by the connection to VeeFriends or to Gary, and it came across as a wider-scale appreciation of the NFT scene—a bridge from Discord servers and Twitter to the real world. Who knows where the NFT industry will be a year from now, but I'm looking forward to seeing how VeeCon celebrates and connects it in 2023.




免责声明:本文章仅代表作者个人观点,不代表本平台的立场和观点。本文章仅供信息分享,不构成对任何人的任何投资建议。用户与作者之间的任何争议,与本平台无关。如网页中刊载的文章或图片涉及侵权,请提供相关的权利证明和身份证明发送邮件到support@aicoin.com,本平台相关工作人员将会进行核查。