Elon Musk's New Tweet Leaves SHIB and Doge Holders Puzzled
Shib and Dogecoin community left pondering what Elon Musk's new tweet could mean, particularly after Tesla launched merch buyable with Doge

Tesla boss centibillionaire Elon Musk has made the community of the two major meme cryptocurrencies – Doge and Shiba Inu – wondering as to what the eccentric billionaire meant to say.

While often tweeting memes to do with cryptocurrencies (Dogecoin or Bitcoin in particular), this time Musk has tweeted only one word "top" with an upwards arrow emoji.

????

— Elon Musk (@elonmusk) January 15, 2022

Crypto community members supporting various currencies immediately began to ask for a clarification. Shib and Dogecoin fans have been most active so far, wondering if Elon meant Doge/SHIB going to the moon.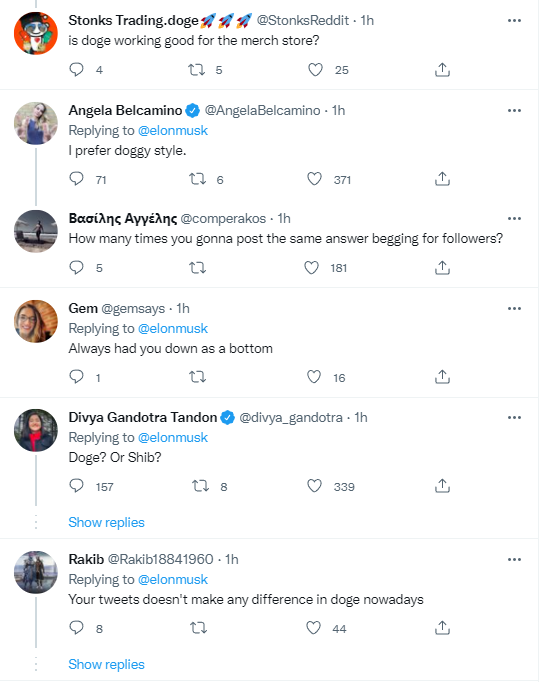 Image via Twitter

Earlier this week, Musk announced by his Twitter page that Tesla had finally launched sales of company's merchandize that can be paid for with Dogecoin only. So far the Tesla merch shop offers four items, including a "cyberwhistle" inspired by the cybertruck and a "cyberquad for kids". The latter is worth 12,020 DOGE, suggesting that Tesla has basically started selling its e-vehicles for Doge.

RelatedHere's Why DOGE, SHIB and FLOKI Are Important for Crypto Space, David Gokhshtein Believes

Many in the Doge community expect the company to begin selling electric cars for the meme crypto as the next step.

After yesterday's 20-percent spike, Dogecoin price has dropped from $0.199 to a low of $0.1827. By now, the original meme cryptocurrency has recovered the $0.1895 level.

免责声明:本文章仅代表作者个人观点,不代表本平台的立场和观点。本文章仅供信息分享,不构成对任何人的任何投资建议。用户与作者之间的任何争议,与本平台无关。如网页中刊载的文章或图片涉及侵权,请提供相关的权利证明和身份证明发送邮件到support@aicoin.com,本平台相关工作人员将会进行核查。